How To Choose Materials And Sew A Leather Tote Bag
Recently updated on March 2nd, 2023
Would you like to make a leather tote bag? To create a tote bag, the first step is to choose the materials. One of our favorite parts of the process is looking for leather bags online and daydreaming about all the beautiful bags we want to make. In today's post, you'll learn how to decide your exterior material, lining, interfacing, and hardware. We know we were a bit overwhelmed when we first started making bags with leather, so our goal is to hopefully make it less intimidating to decide on leather for your project.
Exterior Material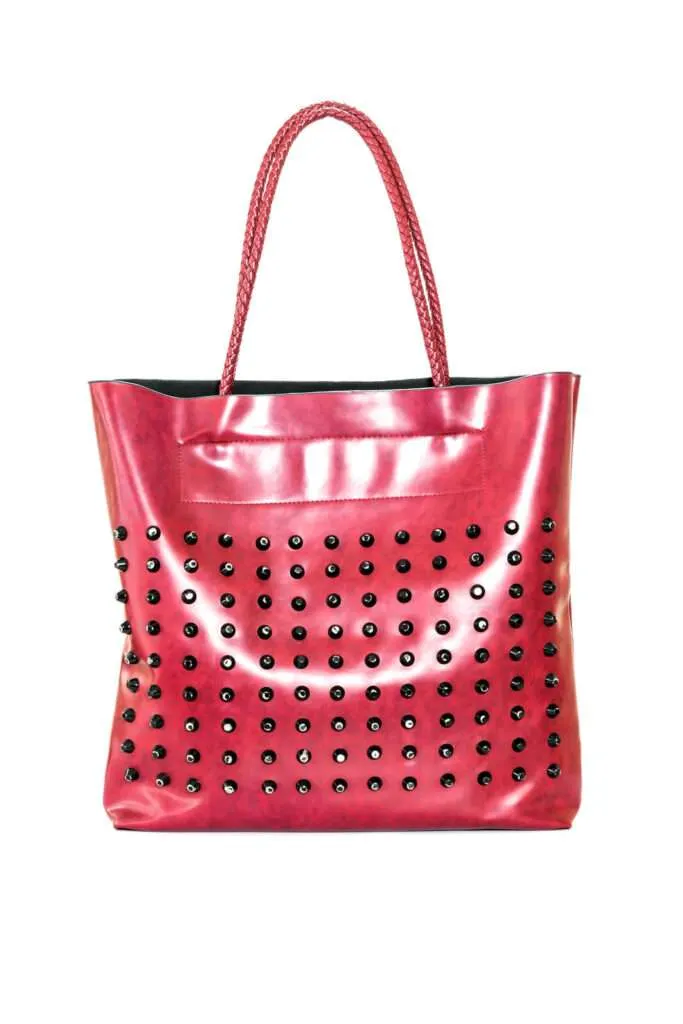 It's crucial not to skimp on the quality of the materials you choose for the exterior of your bag. Depending on your attitude towards animal products, you can make your bag out of genuine or faux leather, pineapple leather, or cork. Learn more about each option in the following paragraphs.
Genuine Leather
As long as you don't have any ethical concerns about using leather, we recommend making this tote bag from leather. Leather can be sewn using a regular sewing machine! However, good leather is costly, depending on the thickness, size, and color. You must use thinner leather, something between 2.5 and 3 ounces, for this tote bag. The thickness of the leather is measured in ounces, with one ounce equaling 1/64".
You can find a handy chart here that shows the different thicknesses. Considering the wastage caused by the irregular shape of the leather hide, one yard of 54-inch wide fabric represents roughly 18 square feet of leather. (By the way, for people interested in leather square footage, one yard of 54-inch wide fabric equals approximately 18 square feet of leather.)
Rocky Mountain Leather Supply is one of our favorite online leather suppliers. Although Rocky Mountain Leather isn't the cheapest source, we are willing to pay a premium, knowing I'll always get them a great piece of leather. As a small company, they sometimes ship slower than others, but we think that's a small price to pay for receiving a high-quality product. (I'm not being paid to promote them; I've made several projects using leather from them.)
This 2.5 oz calfskin leather in 12 colors would be a good choice for this slouchy tote bag from Rocky Mountain. Despite its primarily smooth grain, this exotic textured sharkskin leather (though pricey!) comes in 5 colors if you want a more rustic look. In addition to this lovely (but expensive!) classic Italian suede bag, which comes in various colors, we think this bag would also look great in suede.
In addition to Tandy Leather and Weaver Leather Supply, other, more extensive online leather retailers have more leather selections, but those shops don't always carry high-quality, luxurious leather. If we could not visit a store location and examine a leather sample, we would not consider purchasing from them.
Faux Leather
Consider making the tote bag in faux leather if you are uncomfortable using leather, either because it is too expensive or ethically wrong. A faux leather finish is applied to a base fabric of some kind by applying polyurethane (PU) or polyvinyl chloride (PVC). Don't let the terrible faux leather of the 1980s hold you back. Nowadays, faux leather looks much better than the faux leather you used to find back then. The grain and appearance of many high-quality faux leather pieces are similar to genuine leather. A yard of faux leather can cost as little as $20-50, even of high quality.
In the garment district of New York City, you can find high-end faux leathers at B&J Fabric. It has been my experience that the faux leather from this company feels nice (and not plastic!) on numerous occasions. They have a decent selection on their website, but you can visit their physical location in NYC if you can't get there. Three colors (navy, red, and white) are available in this so-called "Perfect" faux leather. To make this tote bag, you only need about a yard of fabric.
Pineapple Leather
A tote bag can be made from other materials if you don't like PU or PVC faux leather. A pineapple leaf-derived faux leather can be used, called Pinatex. Despite its origins, Pinatex looks and feels similar to rough-grained leather, making it an excellent choice for rustic, distressed-looking bags.
It is also surprising how versatile pineapple leather can be. There are 11 different colors available in the original Pinatex, and there are a few metallic shades as well. Pinatex is also available in a smooth version without a rough texture.
It is challenging to find Pinatex leather online because it is difficult to find many places that sell it. If you live in the United States, be prepared to wait for long shipping times since the manufacturer, Ananas Anam, is based in Spain.
Cork
Fabric made from cork can be another excellent choice for bags with a rustic, organic feel, since it is made from the same material used in wine bottle corks. Like faux leather, cork fabric is constructed by bonding cork material with a fabric backing to increase durability. Cork fabric behaves and feels like faux leather (including not fraying), so you can use the same techniques for sewing and construction as you would for leather.
Furthermore, cork fabric dyes well and comes in a wide range of colors, so you can create a metallic sheen creation or go natural. Also, you can add sophistication to the bag by using cork fabric for the main body but genuine leather for the handle and pocket.
Despite their sophisticated, metallic colorways (from $37 to over $100/yard), B&J Fabrics' selection is rather pricey. Cork fabrics can be found at Fabric.com at a more affordable price, including several in brown colors that resemble brown leather.
Pig Skin
Pigskin leather lining is a great option if you're making your bag from genuine leather and want the lining to be leather. Many major leather online stores sell pigskin linings – for instance, Tandy offers black and beige pigskin lining leather.
Microsuede / Ultrasuede
When it comes to leather bag projects, we prefer microsuede linings. You can clean microsuede more easily than pigskin lining, giving your interior a nice soft feel. However, stay away from the ultra-cheap (under $10) microsuede you can find online—that type of microsuede tends to fray at the cut edges, which makes it unsuitable for leather bags (we'll explain why when we discuss finishing the edges).
This Italian microsuede lining from Rocky Mountain Leather is one of my favorites in beige and black. Known luxury brands use this microsuede lining because it feels so soft and smooth to the touch.
Use Ultrasuede if you want a bag that will last a long time. Known for its durability and water resistance, Ultrasuede is often used in boat upholstery (and Halston famously used it for trench coats) and is frequently used in upholsteries. You can add a pop of color to the interior of your bag with this product, which comes in a wide variety of colors. In terms of price, Ultrasuede Soft runs around $60 per yard (although remnants are sometimes cheaper online). The product is worth the price, so we buy only the minimum amount we need for my project (e.g., most bags can be completed with half a yard of material).
Ultrasuede Soft is available at B&J Fabrics in a variety of colors. In addition to Ultrasuede, fabric.com offers other (more expensive) types. Occasionally, I've also found cheaper Ultrasuede remnants on eBay and Etsy (though beware of products that are too cheap on those sites since they may not be authentic Ultrasuede or merely a sample of Ultrasuede).
Lining Material
The lining does not need to be done on this bag, but it can give the interior a lovely finish and extend its life. If you don't want to use leather for the lining, consider microsuede or Ultrasuede, which are non-leather alternatives. The following is a list of each of these options.
Making sure the lining complements the exterior material is crucial when selecting it. To make sure that the two layers won't be too bulky in the finished bag, we usually hold the exterior fabric and lining material together.
Interfacing
Certain parts may need to be interfaced to give bags more structure and heft, just as they do with garments. The handle area of this tote bag is subject to more wear and tear than the rest of the bag, so interfacing is not required. Whenever we fuse materials, we like to use Decovil Heavy, a heavyweight fusible nonwoven interfacing that provides the materials with a leatherlike feel.
Although Decovil Heavy can be purchased online, Joann's Fabrics is probably the most accessible place to buy it in person in the United States.
Final Words
In its original design, the top opening of the tote bag is not secured and is easily opened. On the go, you can easily slip items into and out of this bag, which has its perks. Magnetic closure at the top of the bag can be added if you want a bag that can be securely closed.
Various sizes, colors, and designs are available at Botani Trim for magnetic closures (nickel, gold, gunmetal, and brass). Our leather tote bag is complete—all the materials have been gathered.
In conclusion, there are a few key things to remember when choosing your materials for a leather tote bag. Firstly, think about the weight and thickness of the leather. You want something sturdy and will hold up to regular use but not so thick that it is difficult to sew. Secondly, consider the color and grain of the leather.
You want something that looks good and ages well, so avoid light colors or delicate grain patterns. And finally, make sure you have the right tools for the job. A good leather needle and a strong thread will make all the difference in getting a high-quality finish on your tote bag.