A Beginner's Guide to Different Types of Stitches
If you have only learned the basic running stitch when it comes to sewing, then it's time to expand your knowledge. There are many types of sewing stitches that you can use to accomplish different tasks. A blanket stitch is what you'll want to master if you want to sew an eyelet, but a zigzag stitch is what you'll want if you want a clean-cut edge.
As part of our hand sewing and sewing machine stitch guide, we will look at several different sewing stitches and even discuss seam finishes. Our tips and tricks can help you, and if you want even more information, check out these sewing resources.
Using The Right Sewing Tools
Invest in high-quality sewing tools before delving into the various types of sewing stitches. Although it may be tempting to purchase cheaper tools, we recommend investing in high-quality tools that will last. You will need the following sewing supplies to get started:
Needles
Thread
Sewing scissors
Small ruler
Tailor's chalk
Marking pencil
Straight pins
Narrow and wide bias tape
Hem tape
Stretch lace.
Moreover, if this is your first time sewing, you may want to brush up on some sewing terminology. For example, before you can master basic sewing stitches, you must know what a sew and a hem is.
Different Types Of Hand Stitching
In addition to knowing some basic hand sewing stitches, knowing these stitches can prove useful when you don't have access to a sewing machine. When working with delicate fabrics or seeking greater control, many sewers prefer basic sewing stitches by hand. In addition to creating flawless corners, these hand stitches also allow you to create more intricate details. The different sewing stitches on clothes can make a world of difference to your sewing projects.
Running Stitch
There are many variations of the running stitch, which is one of the most basic types of hand stitches. Among its uses are gathering, mending, and tucking. To lock the thread into place, you can either knot the thread or take a couple of back stitches. Longer versions of this stitch become basting stitches.
From the fabric's back (wrong side), thread your needle through. Stitch the knot to the left or right once it hits the fabric. Repeat the process by bringing the thread back up.
Basting Stitch
Make longer stitches (between 1/4″ and 1/2″) using the same technique as the running stitch.
Hand basting is still useful, especially when it comes to heavyweight wools such as leather and Melton, as well as lightweight fabrics like silk and chiffon. Today, we tend to pin baste our garments and projects more than hand bast them.
Backstitch
Backstitching was one of the most practical types of hand stitches before sewing machines were available.
Take a small stitch from left to right, then insert the needle just beyond where the thread emerges from the previous stitch. The needle should always be inserted at the end of the previous stitch as you continue.
Catch stitch (Cross-Stitch)
Invisibly tack facings, and finish hems with fabric that doesn't fray with this stitch.
Take tiny stitches along the hem and then along the garment from left to right. Don't tighten or tighten the stitches. On the right side, they will look like small stitches and crosses on wrong side.
Slip Stitch
I use this stitch whenever I need to finish hems and other hems. The stitch is tidy and almost invisible if done correctly and with care on both sides. Once you master it, you'll love it, too.
Pick up a thread of fabric at the same point as the needle passes through the fold of the hem. Approximately 1/2 inch apart, make loose stitches.
Blanket Stitch (Buttonhole Stitch)
By learning the buttonhole stitch, you can hand sew eyelets and buttonholes.
Insert the needle through the fabric 1/8 inch from the edge, with the right side facing upward and the thread secured on the wrong side. The working head should be wrapped behind the eye end and then behind the point of the needle. The knot should be brought to the edge of the fabric by pulling the needle through. As you stitch and knot, make sure the stitches are closely spaced.
A circle is worked in the eyelet variation, with a wrapped edge inside; a quarter-inch space between the stitches is used in the blanket stitch variation.
Different Types Of Sewing Machine Stitches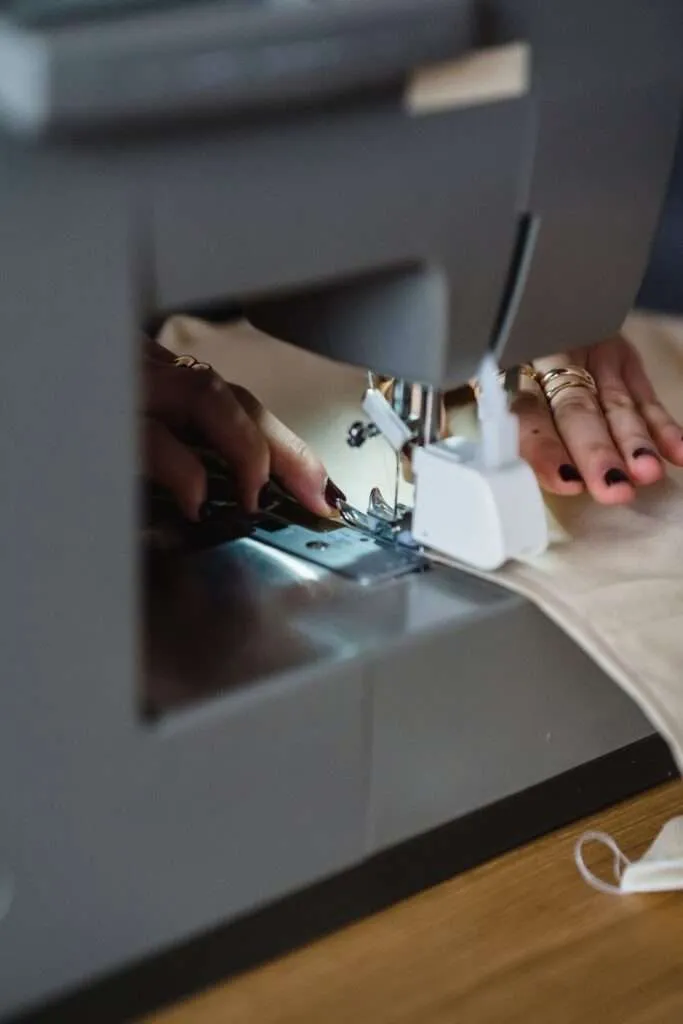 You should familiarize yourself with some of the most common sewing machine stitches once you have a basic understanding of hand sewing stitches. You can make stronger and more durable stitches by using a sewing machine. In addition, sewing machines make it easier to work with heavy fabrics. Our sewing techniques machine stitch guide below will help you master these stitches, so you can tackle easy projects like headbands and drawstring bags.
Standard Forward / Backward Stitching
Approximately 1/8-3/8 inch from the edge of the fabric, begin straight stitching. Pin or bast the seam in place, then backstitch the forward stitch. Finish by repeating the reverse stitch.
Use the straight stitch for seams, understitching, stay stitching, and simple topstitches.
ZigZag Stitch
Combining a stay stitching line with the zigzag stitch will give you a clean finish on raw edges. Your project's width and length can be adjusted by adjusting the stitch. Sewing machines can be used for hemming jeans, for example.
Buttonholes
With most sewing machines, you can sew buttonholes, either with an automatic foot attachment or a pre-programmed buttonhole foot; both are available for most mechanical and computerized sewing machines.
You can find these details in your machine's manual.
Blind Hem Stitch
Two or three straight stitches are followed by one wide zigzag or catch stitch on the sewing machine. Blind hems are folded under and away with just the hem edge showing, just as in hand-stitched versions.
Seam Finishes
Now that you've mastered the different sewing stitches, it's time to finish the seams. Using seam finishes will prevent fraying and prolong the life of the seam. The type of fabric, strength, type, and appearance of the seam should be considered before choosing a specific seam finish.
Zigzag
Most fabrics can be finished with a zigzag pattern. The raw edge of the seam should be zig-stitched and trimmed away once it has been sewn and pressed open. Depending on the fabric weight, the width and length may vary. A variation involves trimming the seam-edges to half their depth, zigzagging them together, and pressing them to one side.
Turn and Stitch
Pieces of cotton that are crisp are usually treated with this method. Finish the folded edge by machine stitching along the folded edge, allowing a 1/4 inch allowance. In accordance with the pattern, seams are then pressed to one side or open.
As a result, the finish is neat and durable.
Bias Tape
Jackets and skirts without linings usually use this method.
Put the bias tape around the raw edge and stitch through all layers, enclosing the raw edge. It is recommended to place commercial bias tape underneath the fabric on the side that is wider.
A contrasting or matching bias tape can also be made yourself.
Pinked Seams
Seams that are pinked are the simplest to finish. Using pinking shears, the seam allowance should be trimmed away as little as possible. There is no hardwearing version of this version. It works best on wool and polyester fleece.
The edges can be trimmed with pinking shears after machine stitching 1/4 inch from the seam.
Hand Overcast
Small areas or thick fabrics can be finished with a hand overcast seam instead of a zigzag stitch. The raw seam edges should be overcast by hand, taking very loose stitches.
Top Stitch
Top stitches create a hard hemline that can be used as a decorative finish or to strengthen seams.
The seams should be pressed open and then stitched on the wrong side. Sometimes a contrasting bobbin thread is used to pink the seam beforehand.
Getting to Know Different Types of Stitches
We've covered a lot of stitches so far, but this is just the beginning. In time, you will be able to master even more sewing stitches as you develop your skills.