Free Sewing Patterns For Jackets And Blazers
Recently updated on July 17th, 2022
Sewing your own jacket or blazer can be a fun and rewarding experience. With the right pattern, patience, and a little skill, you can create a one-of-a-kind garment that will last you for years to come. There are a number of free sewing patterns for jackets and blazers available online, so finding the perfect one for your project should be easy. Whether you're looking for a classic bomber jacket or a chic blazer, there's a pattern out there that will suit your needs. To get started, all you need is a few yards of fabric, some basic sewing supplies, and a bit of time.
It is easy to find simple, slouchy jacket sewing patterns online, but it is harder to find high-quality free sewing patterns for more complex garments. Two main categories of free jacket sewing patterns are available in this post by SewingWithEase: tailored jackets/blazers and casual jackets.
Tailored jackets and blazers
Marfy – Marfy 1756
In order to get a feel for its patterns before buying them (somewhat expensive), the high-end pattern company Marfy offers free patterns on its website. Known for their impeccable drafting and flattering fit, Marfy patterns are beloved by sewers all over the world. A Chanel-style cardigan jacket with patch pockets is one of the free patterns available on Marfy's site.
With this pattern, you can see some of the stunning results that sewists have achieved.
There are Italian sizes 42-58 available for this pattern. A Challenging Sew has a series of posts for Marfy 1756 that provide very detailed instructions (with tons of construction photos!). You can find the post here.
Avantages magazine–tweed jacket
Its website offers a free pattern for a cute jacket made from tweed fabric with lurex shot through it. Avantages Magazine is a French women's magazine.
There are French sizes 38-46 available for the pattern. It's a pity that the instructions are only in French, and Google Translate isn't great at translating them. So if you want to use this pattern, you'll need to know how to sew a basic jacket.
Mood fabrics – Ercilla suit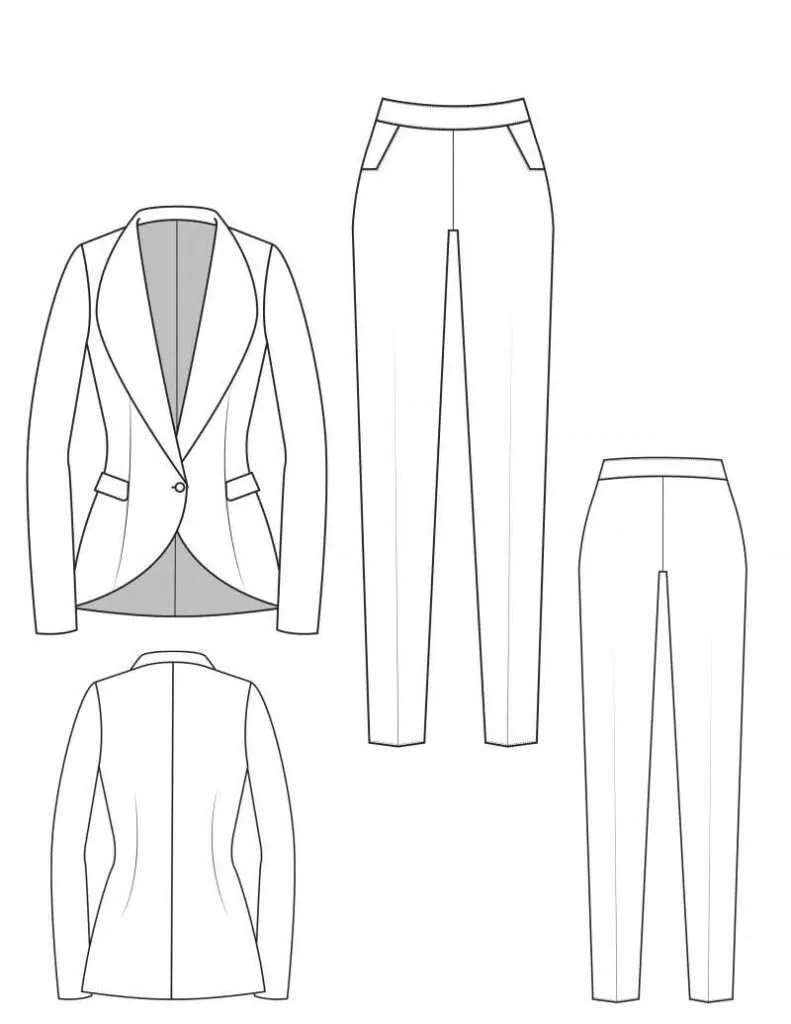 A ton of free suiting patterns can be found on the website of Mood Fabrics, the fabric supplier of Project Runway fame. An example of a free pattern is the Ercilla Suit, which is a single-breasted blazer with a shawl collar.
The pattern is available in US sizes 0-30. The blazer is detailed in a blog post, but the tailoring techniques you'll need to make it look really crisp aren't discussed in the post. If you want to learn more about tailoring, I recommend Tailoring: the Classic Guide to Sewing the Perfect Jacket from Amazon. In that book, there are detailed instructions (with tons of photos) for tailoring jackets using fusible or sew-in interfacing.
Mood fabrics – rosemary blazer
The Rosemary Blazer sewing pattern is another classic single-breasted blazer from Mood, this time with a notched collar. Christian Dior's "New Look" is reminiscent of this blazer's nipped waist and flared hips.
Sewing advanced beginner or intermediate sewists should be able to follow the instructions on the blog post for this pattern.
Casual Jackets
Mood fabrics – Hawthorn jacket
Hawthorn jacket free sewing pattern from Mood Fabrics is perfect for those who enjoy athleisure and want to wear lightweight jackets that look like ready-to-wear. A contrast stitching or piping would look great accentuated with this jacket's exciting seam lines.
A US size 0-30 pattern is included with this pattern. The blog post has instructions and pictures that walk you through the process of building this jacket and making your own piping.
Mood fabrics – Olive jacket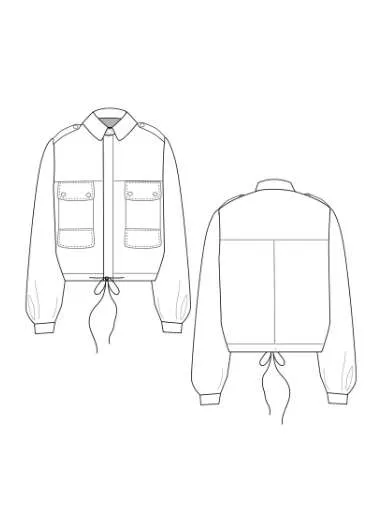 This classic olive green utility jacket has also been a rage for several years now, and Mood Fabrics offers a free sewing pattern for it, called the Olive Jacket. Heavy-duty snaps and flaps adorn these large pockets on this jacket.
There are US sizes 0-30 available for this pattern. There are instructions and pictures in the blog post, but this pattern is not suitable for complete beginners due to welt pockets and sleeve vents.
Fabrics-store.com – Paola Workwear Jacket
Right now, an on-trend garment is the "shacket," a hybrid shirt/jacket. With Fabrics-store.com's free Paola Workwear Jacket pattern, you can make your own DIY shacket. This jacket looks like a heritage work shirt made from heavyweight flannel, denim, chambray, or linen, even though it's actually freshly made.
The pattern is available in sizes 0-30 in the US. This pattern comes with detailed instructions (and pictures).
Sew mag – bomber jacket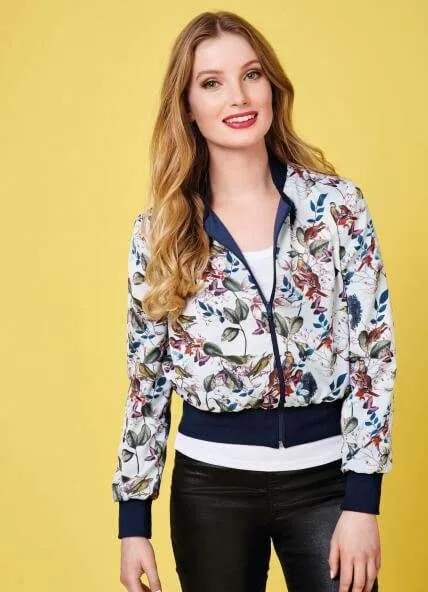 There was a time when satin bomber jackets flooded all of the runways and fast fashion outlets. Try sewing a bomber jacket using this free pattern from Sew Mag if you want to jump on that trend. Bomber jackets are known for their zipper fronts, gathered waistbands, and cuffed sleeves, all of which are included in this pattern.
There are three sizes available for this pattern. Construction steps are described on the website, but no pictures or videos exist.
Bernina – blouson jacket
Several free sewing patterns from Bernina's Inspiration magazine are available on Bernina's website. It features ribbed cuffs, waistband, zipper front, patch pockets, and ribbed cuffs and waistband. The pattern was originally published in Bernina Inspiration Magazine No. 67.
The pattern is available in European sizes 34-48. Finding the instructions online is impossible; you'll have to purchase digital access to Inspiration magazine.
Bernina – denim jacket
This denim jacket from Bernina Inspiration magazine's March 2020 issue is another sophisticated free jacket pattern available on Bernina's website. Featuring very unique seam lines, a boxy fit, cuffs, and collar, the jacket features a boxy fit, cuffs, and collar.
There are 34-48 sizes available in this pattern. It is not possible to access the instructions online – you must purchase a digital copy of Inspiration magazine.
Conclusion
If you are always looking for a new sewing project, you will love this collection of free patterns for jackets and blazers. With so many different styles, you will indeed find the perfect pattern for your next project. Whether you are looking for a casual jacket or a more formal blazer, you will find a pattern that will suit your needs.