Free Sewing Patterns For Summery Sun Dresses
Recently updated on November 25th, 2022
Summer vacations are naturally on our minds when the temperatures start to rise and the daylight hours start to lengthen as the weather warms up. Our list of 11 free sewing patterns for stylish summer sun dresses proves there's nothing better or more classic than the simple, breezy summer sun dress.
This is an excellent collection of easy-to-make comfortable but subtly sexy dresses. Below we at SewingWithEase have listed fabrics that we think would work with each pattern and our comments about the pattern and/or the instructions.
When you think of summer dresses, you probably imagine a breezy cotton or linen slip dress. An online fabric store specializing in linens, Fabrics-store.com (a fabric store selling slip dresses) offers a faux-wrap dress pattern with spaghetti straps, a drawstring waist, and a scooped neckline. This dress would look and feel spectacular in solid or printed linen, lightweight cotton, or even a blend of the two.
It should be noted that this pattern is designed for a B cup. If you have a larger chest size, this dress tends to gape around the neckline, so if you have a cup size smaller or larger than a B, you will need to adjust the bust size.
Try this A-line sundress from the Russian sewing pattern company Grasser if you like the classic spaghetti-strap look but want it to be a little more fashion-forward. The hem of this dress flares dramatically, and the shoulder ties are sweet and delicate. We wonder if a more crisp fabric, such as cotton poplin, might make the dress's A-line silhouette look more dramatic. Grasser recommends making this dress up in a thin, soft fabric that drapes well.
Even though Grasser is a Russian sewing pattern company, this particular pattern has English instructions, so you don't have to use Google Translate (whew!).
Additionally, there's a video tutorial available on the Russian Grasser website (scroll down to the middle), but it's in Russian without subtitles, and unfortunately, it's in Russian. Although you may not understand the words, the video still provides a visual representation of how the construction process works.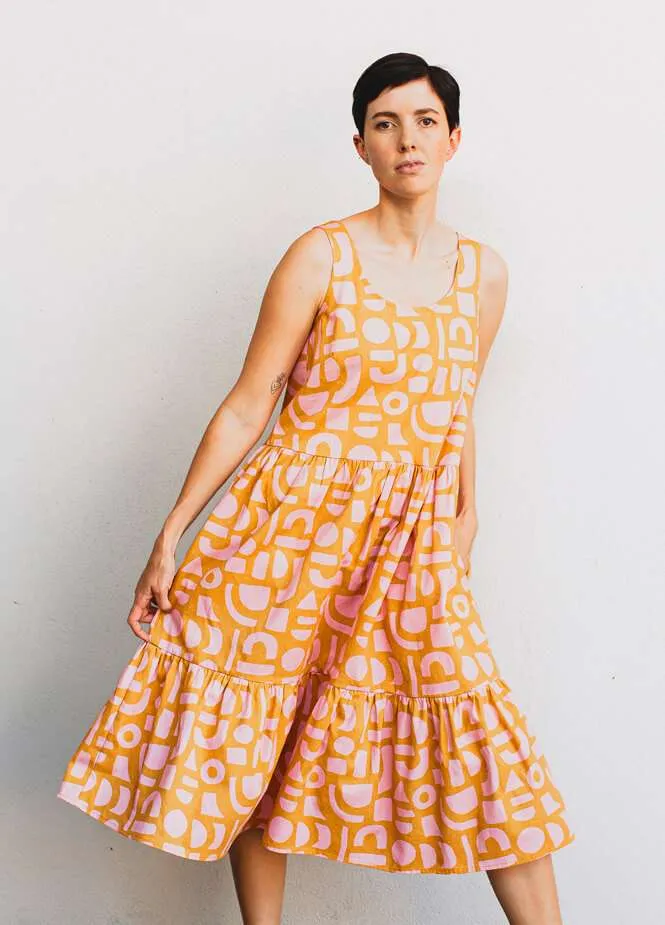 A flirty tiered maxi dress from Peppermint Mag (an Australian sewing magazine) will give you the easy-breezy feel of the dresses above without showing your bra strap. In addition to thicker shoulder straps, the dress features a gathered skirt with pockets (hurray! ), and it is so comfortable you won't be able to take it off. With a vibrant, large-scale print on lightweight cotton fabric, this dress would be an excellent showcase for this fabric.
On Instagram, you'll find tons of pictures of real sewists wearing cute Bardon dresses (search for #peppermintbardondress to see them). There is no doubt that the dress will flatter a variety of body types.
From the Mexican sewing pattern website Modafacil.com, this strappy dress has a similar design. Visually, the contrast bands at the empire waist and neckline really enhance this dress. This would look great if the straps were made up in a contrasting color and made up in solid-colored cotton or linen.
The fit or drafting of this pattern cannot be vouchsafed since we cannot find any examples in the real world. Feel free to let me know what you think of the pattern if you attempt to make it!
This backless maxi dress, also from Fabrics-store.com, offers a bit more coverage but still allows you to reveal some skin. A flattering V-cutout at the back makes this dress easy to cinch at the waist, and the ties at the back make it easy to tighten. In addition to adding movement to the skirt, the slits add a bit of flair. We think that a more flowing fabric, like rayon challis, would look even better than the linen version shown on the website.
It's such a great solution if you don't feel comfortable going bra-less (we know we don't). One creative sewist paired this dress with a matching lacy bra, which is an excellent solution if you don't feel comfortable going bra-less.
The waist ties make this dress very forgiving on fit, so you won't have to spend a lot of time adjusting it to fit perfectly. Summer is a great time to soak up the sun outside and spend less time hunched over sewing machines, which doesn't need an explanation.
An iconic fabric store on Project Runway, Mood, makes this fun summer frock with a daring cutout at the waist and one shoulder.
Marcia (a sewing blogger) made this vibrant orange version out of a drapey viscose crepe based on Mood's linen chambray version (pictured above). We really like the way the tie around the waist adds a touch of designer flair to the outfit.
The sizing chart for Mood patterns runs relatively small in our experience, so don't cut them according to it. For deciding what size to cut, look at the finished garment measurements (Mood has begun including tables with finished garment measurements in their patterns). Add a few inches of ease and use that as a guide. Making a muslin is also a good idea, as I've found Mood's patterns can fit differently depending on the material.
As a follow-up to last week's off-the-shoulder dress, this little dress from Russian pattern company Vikisews looks quite demure but looks like it's all party in the back. Back cutouts at the waist and long sashes tie at the back add to the tight fit of the bodice. Despite the fact that the sample dress is made from cotton eyelets, we think that this dress would also look great if made from crisp cotton shirting.
It is fortunate for us that Vikisews offers this pattern with English instructions despite being a Russian pattern company (this is one of only two free patterns it offers). A video walkthrough of this dress' construction has also been made by this blogger.
If the skirt is too short for you, you can lengthen it by modifying the pattern to extend it. Note that the dress hits around mid-thigh. We recommend lengthening the skirt rather than the ruffle since (1) the ruffle does not have a lining, so lengthening that would not give you the coverage you need, and (2) the skirt ruffle will not be proportionate to the ruffle at the neckline.
In the next section of our program, we will cover more structured dresses that are more fitted or have some more construction elements that are still very comfortable and easy to wear.
An elegant sleeveless dress with buttoned cuffs, a wide belt, and double-breasted closure follows. Square necklines with wide straps and the slight opening at the bottom of the skirt are very flattering. A lightweight woven dress with contrasting buttons would look great in this design.
The Russian version of Grasser's website also has a video tutorial (in Russian) showing each step, along with instructions in English.
One of the best things about the website is that it has several photos of gorgeous outfits made by actual sewers, like this white pinstriped dress paired with some espadrilles and a crochet tote bag. Even if it's not the most original style, what could be better for a vacation on the Italian Riviera?
In addition to the classic shirt dress design elements (collar, button front, cuffed sleeves), the Ursinia Dress from Mood Fabrics has a flirty twist. It features a ruffled skirt and a button front. A solid-color cotton eyelet fabric would also look really sweet with this shirtdress, as would any shirting fabric.
It has already been mentioned that Mood's patterns run large, so you shouldn't cut them according to the size chart. The pattern doesn't contain a table with the finished garment measurements, so you will need to measure it to determine the size to cut (this is an old pattern and doesn't include one). Taking each pattern for a test drive is best before cutting into your precious fashion fabric. Mood sizing and fit can vary significantly between patterns, so it's best to use a muslin fabric and perfect the fit before cutting into your fashion fabric.
Convertible Dresses A And B From Burdastyle
You don't need to spend much time in the sewing room if you want a cute new dress for your upcoming beach vacation, like these clever convertible dresses from Burdastyle Russia. A rectangular piece of fabric is transformed into two different draped dresses using instructions found on the website – they are not sewing patterns. The first version requires a bracelet, some elastic, and a thin knit fabric. You get the best of both worlds – easy, free, stylish, and you don't have to print out and tape together a sewing pattern!
However, there is a catch — the instructions are only available in Russian, and using Google Translate can be a bit challenging. Even if you can't read Russian, following the instructions should be possible since these dresses involve barely any sewing.
The website also features some adorable versions sewn up by real sewists out in the wild, and they all look fabulously flattering! If you're worried that these dresses only work on models, don't be!
Lastly, try sewing this coverup from Hot Patterns if you're looking for something structured rather than draped rectangles like the one above. There is a low v-neck, dolman sleeves, and a tie just below the bust on this top. Drapery woven fabrics such as rayon or voile are ideal for this pattern.
I've seen a few variations of this coverup on the internet, and it looks like it flatters everybody's type (whether you have a flat chest or more abundance). This coverup has been created by many other sewists. You can see their versions here.